Knees to the earth
Beautiful Jesus How may I bless Your heart? Knees to the earth I bow down to everything You are. Beautiful Jesus You are my only worth. So let me embrace You always as I walk this earth. - Watermark
Frequently asked questions
Why is my baby still rear facing?



for more info: www.car-safety.org


Are you STILL nursing that baby - with all those teeth?

yes! LOL! Down to once a day - should be finished by May.

21 month milestone
Get blog updates:
Blogroll
My blogging buddies and other blogs I read:
Special Prayer Requests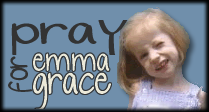 Recent Comments
Mommy sites
Wednesday, September 12, 2007
Amy
Monday, Sept. 10, 2007, Amy Wilhoite went home to her Savior. Throughout her blogging her ordeal I learned so much and was convicted on so many levels in how I should view my circumstances.

I remember a post she wrote a few months ago in March. In this post she told how she was studying up on heaven on John Piper's website (desiringgod.com)

She posted it this way:
"as though studying up on some country I'm visiting on vacation soon" she added: "Sad that only the prospect of death has me at this place, because I believe as Christians we should be focusing on the fact that our stay on earth is quite brief and very temporal. Very little matters when you view it in light of eternity. ......................Please always remember that even if I do not continue here on this earth, I will achieve ultimate healing in heaven. One way or the other, your prayers will all be answered. It is a miracle that we are not consumed day by day. (2 Cor. 4:16)"



(Quote from a post in July)




"I am tired, weary, broken, and so weary of this long, slow death. I know God has a purpose in all of this -- I know He is still sovereign -- I know He still holds my days, but the fight is leaving me, and I find myself longing for relief from this daily assault on my body."



While my heart aches for her family and her little boy she has left behind, at the same time there is a peace knowing she can see Jesus and has received her ultimate healing .

Please pray for her husband, infant son, and her friends and family that are grieving. Memorial details are on her blog. http://wilhoite.blogspot.com/



Labels: Prayer requests
posted by Crystal @ 11:31 AM /

Friday, August 17, 2007
So how's the potty training going (Potty training Part 2)

It's a slow day in my bloggerville when my last 2 posts are on the potty habits of my 2 year old, but I did say I'd update so here's the progress report

Weeeeellll, actually, it's a mixed review here so far. Last weekend she did awesome! Saturday she finally peed (can you "say" peed online?) ok she "pee pee'd" -hmm not sure that sounds any better, but you get the point.

THAT

is what she did Saturday.
Her accomplishments Saturday were mainly because I rushed her to the potty midstream (as she was wetting my shirt).
Sunday, however was much better - she actually told me when she had to go and then it was a mad dash for the potty. Right now our only drawback is once she sits down she holds it in and begins to cry. I think it is because she doesn't want to let it go in the potty ??.
I end up having to hug her and tell her it is ok to let it go in the potty. Then she screams and hollers with this look of terror on her face as she goes in the potty all while I have to hold her down so she doesn't get up midstream.

So to wrap up our progress so far: she is "going" in the potty (and on the potty, and on the floor) - but the concept of the potty being the place to go is starting to hit her.

She does not like going in her "big girl pants" and at night when she has on a diaper she will wake up and tell me she has to go or has gone and insists on being changed right away. (usually at 4:15 am).

We haven't even tackled the other bodily function - Holding her down to do the one is enough for us right now.

I have a few other posts saved as drafts that I need to upload photos on. So they will be coming soon. Taking K to the potty every 15 minutes eats up a lot of my time so blogging and photo uploading are slow...But I promise updates soon! I know Candi is waiting on me to posts the photos from our trip to Georgia. :)

Labels: potty training
posted by Crystal @ 5:53 PM /

Monday, July 30, 2007
Potty training part 1

Today we began our potty training adventure - officially. Actually, I tried starting to potty train her the end of May, but it was right after we officially weaned. She was having trouble keeping her fluid intake at the right levels and ended up spending a day and part of an evening in Children's Hospital because she was dehydrated.

My poor baby had to have a catheter to get urine samples and she was so dehydrated they were not even able to get blood when they tried on her arms twice! So needless to say we postponed potty training and let her get back to normal.

Now she's gotten her fluid intake regulated and can tell me when she's wet/or poopy (She yells "MOM, I poo poo" - and poo poo is what she calls anything she does in her diaper)- so to me that mean the next step is potty training. I do not use pull ups when potty training except when we are going out in public, and diapers are only for night time....although past few nights she has stayed dry.

Today she wore her "big girl" pants all day and only had 3 accidents....still hasn't done anything in the potty, but she sure has done a lot of sitting. I am having her train Elmo while I train her and she really likes checking to make sure Elmo is "dry" and then putting him on the potty. I think Elmo has been on the potty today more than she has.

So basically what I'm doing is checking her every 15 minutes and I'll ask if she's dry - if she is, she gets a treat and I have her sit on the potty - at some point she will hopefully do something in the potty and receive a bigger treat and loads of applause. If she's wet, we do a change of pants (no treat) and we start the 15 minutes all over again. That's the plan - it's been a while since I've had to potty train so I'm trying to remember what I did the last 2 times (10-13 years ago!) and pick what worked best.

I'm open to suggestions and will let you know how tomorrow goes.

Labels: potty training
posted by Crystal @ 9:06 PM /

Sunday, July 29, 2007
East to West
Labels: music
posted by Crystal @ 11:36 PM /

Friday, July 27, 2007
5 Minutes for Mom is Giving away a 37″ Flat-Panel LCD HDTV!
Who doesn't love a giveaway? Click on over to 5minutesformoms.com (one of my favorite blogs) and see their latest giveaway sponsored by Best Buy.

Labels: Contests
posted by Crystal @ 8:15 PM /

Monday, July 23, 2007
Prayer request -
Please pray for this family. Their beautiful daughter drowned last week at the beach. Please say a a prayer for them, especially tomorrow and the days following. I'm sure she and her family would appreciate your prayers and encouraging comments.

Labels: Prayer requests
posted by Crystal @ 8:08 AM /

Saturday, July 14, 2007
The story of a bird in a shoe.............
JP's football season ended on a rather "muddy" note last year. When we came in from his last game his football cleats were not allowed in the house. I had them put out on the back porch with the intentions of hosing them down at a later time.
Fast forward to now nearly a year later - and guess what? - Those cleats still sit on the back porch waiting to be hosed down. I was rearranging things on the porch and saw something odd with his shoe.
There was a bunch of straw sticking out of it - my first thought was - "why did my son put straw in his shoe?" (If you know JP, that is a valid question)
I picked it up to see if there was an obivious explanation before questioning him and saw that this straw was not just stuffed in there carelessly - but that great care had been taken in arranging each piece of grass, hay, and plastic baggie. A bird had built a nest in those muddy cleats. I started to dump it out, thinking it had served it's purpose and the birds were long gone, but decided to save the shoe to show Randy at a later date.


Two weeks later, the shoe still sat there ( I get sidetracked easily) - I went to grab the shoe to show Randy and when I reached for it a bird came flying out of the shoe! I was so startled - I don't know how I didn't drop the shoe. Good thing I didn't because the shoe now held these:

Here's mommy bird on our swing set waiting for me to put the camera away and go back inside.
A few days later I was more careful to not touch the shoe and just held my camera up high over the shoe and snapped a quick picture to see what was inside at this point. I caught a picture of mommy bird sitting happily on her eggs.




posted by Crystal @ 10:36 PM /

Thursday, July 12, 2007
"Me mommy"


While I was reading my email today, my little one crawled into my lap and held my face in her hands, looking deep into my eyes she said "Awww - me mommy". Then I was given the biggest, sweetest smile and a hug. (all together now..."awwwww")

People are always mentioning how spoiled she is or will be - but I think they've got it backwards...I'm definitely the one that's spoiled.
posted by Crystal @ 9:01 PM /

Happy 2nd Birthday! (with slideshow)
My baby turned 2 last Sunday and we celebrated her birthday here at the house. I purchased a B@rney cake pan off Eb@y and attempted to bake her cake before I left for church that morning. Evidently letting it cool in the pan while we were at church was not a good idea...as it stuck to the pan and I had a hard time getting it out. With less than 3 hours before her party, Daddy made a quick trip to the store and bought more cake mix so I could try again. We also had a hard time with frosting colors....I purchased store bought "icing coloring" and it tasted NASTY!!! So in the end we settled on using a couple drops of red and blue food coloring for the purple icing. I piped on the icing using bag with a star tip, used green sprinkles for the belly, chocolate icing for the mouth, and chocolate chips for the eyes and nose (white frosting for the blank space and the teeth). I think he turned out pretty cute, not as purple as the actual "Barney", but Kit Kat, knew who the cake was meant to be. She enjoyed all her presents - and the next day kept asking if it was still her birthday - :)

Here is a slide show of the pictures from her "party":









Labels: Birthdays
posted by Crystal @ 4:27 PM /

About Me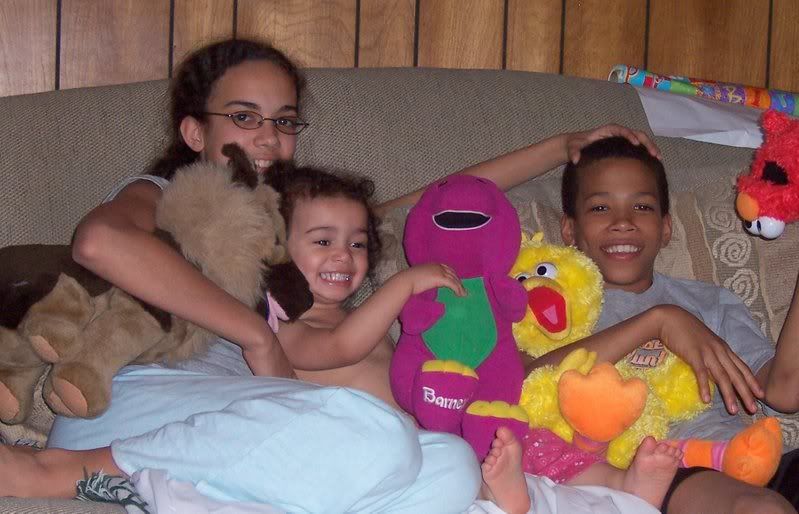 Name: Crystal
Home: United States
About Me:
See my complete profile
Previous Post
Archives
You are visitor
My buttons
---
---
Add Snippets to your site
---

Christian Women Online
Blog Ring
Join | List | Random
---